Author Interview: Dionie McNair
Posted by Charlotte Kirton on 18th February 2016
Hello Dionie! Welcome to the Finch Blog. Please can you tell us a little about yourself?
Having been an avid reader from a young age it seemed natural that I would become a writer. The journey to publication was more challenging than I expected, but also ultimately rewarding. Today, I not only live in one of the most livable cities in the world, Adelaide, South Australia, but get to work from home at my dream job—writing. I consider myself very blessed. I have three grown up children and grandchildren living nearby and enjoy spending time with them going on outings, cooking some snags of the barb-e-que, walking along the beach or reading books with my grandchildren. My fur babies are essential to my sanity and well being. I have a ten year old golden Labrador called Charlotte and we enjoy walks together in the local park. I also have three cats. Two of them are rescues, Sooty and Motley and the third one is a little ginger manx with spinal problems. When I take a break from writing, I love to be creative. I decorate and carve real eggs to make imitation Faberge eggs, paint, cook and garden and of course I read—a very eclectic range from young adult to murder mystery and epic fantasy. Being published with Finch Books is a dream come true and I am looking forward to enthralling you, my readers, with many more stories.
Give us an insight into what to expect from your new release, A Scorpion's Heart.
The Scorpion's Heart is a fast paced adventure story set in a world dominated by good and evil entities where mortals live beside weird and wonderful creatures. Brianna is already reeling from being told her father is an Abrasaxon when good and evil meet head on in her village shattering her quiet life forever.
Determined to rescue her family and friends Brianna sets out on a dangerous journey to find her father and enlist his help. As she and fellow survivors face and conquer the hardships of the journey together Brianna not only discovers her inner strength, but out who she is, how to love and work together. She also gains much more than she ever expected in a sister and two brothers. Her quest is successful and she is ready to begin the next chapter of her life.
What's harder, naming your characters, creating the title for your book or the cover design process?
I really enjoy creating names for my characters, I usually start with a baby name book and choose a name that has a certain sound or resonance to it. Or just seems to fit the character.
I am very fortunate in having my covers beautifully designed by the Finch books art department so these don't give me much trouble.
The hardest thing I find is choosing a title. It needs to be original. Preferably short, catchy and hint at the story inside. A title has to intrigue a potential reader, roll off the tongue and inspire curiosity. But one thing it must not do is disappoint. Sometimes a title will just jump out at you and you know it is right, but at other times multiple versions are tried before you get it right.
Do you have any advice for all the aspiring writers out there?
My advice to aspiring writers is to write, write write. Learn your craft, be prepared to take constructive criticism, don't be precious about any word, sentence or paragraph in your story. Be ruthless—cut even your most favorite scene if it doesn't work for the story. Edit every phrase and sentence until the words ebb and flow in style. Then polish, polish and polish.
If you could travel forward or backward in time, where would you go and why?
Scotland in the 1700s. I am fascinated by the loyalties, betrayals and battles of the Highlanders against the English. Culldon Moor was one of the most horrendous battles followed by broken clans, starvation and death. I'm intrigued by how they survived both physically and culturally. Besides there is something romantic about the sound of bagpipes and a man in a kilt.
If you could be a superhero, what would you want your superpowers to be?
I thought a lot about this question and decided I needed more information so I researched the subject on Google. I was totally blown away by the huge number and diversity of superpowers. We have the most obvious like strength, controlling the elements, being elastic, climbing walls, and flying. But there are many more subtle powers and a number I would enjoy having command of, but healing powers was still the one that I wanted most. I would also love to be able to communicate with animals or shape shift into an animal.
If you could sequester yourself for a week somewhere and just focus on your writing, where would you go?
If I could sequester myself for a week and concentrate on my writing I would go to Kangaroo Island off the coast of South Australia and stay in a private holiday house there. This house is set high above the beach with a wide deck out front. The view of the ocean in uninterrupted and native birds come to visit and share breakfast. There is very little traffic and all the facilities I would need allowing me to sit on the deck with my laptop and write, only pausing from time to time to admire the view and take deep breaths of fresh sea air.
What do you have planned for the future with Finch Books?
I have several things planned for the future with Finch Books.
The Scorpion's heart is book one in the series the Abrasaxon's Daughter so of course there will be a book two. The working title of this is the Curse of the Chacka Chacka. Readers will meet many of the characters you will have got to know in The Scorpion's Heart as Brianna learns what it means to be Abrasaxon and in love.
But more immediate will be the release of 'Finding the Upside of Down', a hard hitting story about the cost of bullying, suicide and victims finding a light at the end of the tunnel. I am very excited about this book. As a past victim of bullying I understand the pain and hope this story will speak to victims and offer hope where they see none and perhaps provide some timely observations to those that perpetrate the cruelty.
And I also hope, sometime in the not too distant future, will be the release of my—as yet untitled—book on sibling rivalry set against a background of wildlife trafficking.
---
About Dionie McNair:
Dionie was a closet writer for several years before she got brave enough to share her work with anyone, until she joined Eyre Writers Inc, a creative writing group in the seaside town of Port Lincoln and really began to improve.
Her first book was a 100,000 words family saga novel but after studying children's literature at university she embarked on a new direction—writing a young adult fantasy novel.
After being made redundant from the job she loved in 2011 she became a carer for her frail, vision-impaired mother and turned to fulfilling her dream of becoming a writer.
When Dionie is not writing she enjoys spending time with family and friends, especially her mother and three wonderful adult children and adorable grandchildren. She also enjoys egg decorating and carving, reading of course, painting, gardening and cooking.
Dionie currently lives in the beautiful 'city of churches', Adelaide South Australia.
The Scorpion's Heart blurb: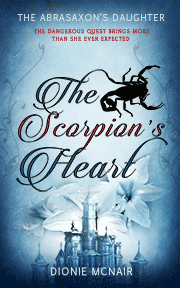 The dangerous quest to find her father and fix her shattered world brings Brianna more than she ever expected.
Brianna is determined to elicit help from her elusive Abrasaxon father, Hakon, to conquer the evil Tyban, Zelig, who has invaded her world. But her journey to the Crystal Castle is full of perils that she and her newfound companions are ill equipped to overcome. Danger comes in many forms—tiny vengeful Nixets, a resurrected Yabix and ruthless Tyban who have crossed into the mortal world.
As they surmount each challenge, Brianna wonders if she will ever get control of her newly blossoming—and daunting—magical abilities, and how to handle her growing attraction to her new companion, Amon. Her resentment toward her father for failing to prepare her for the inheritance of her 'gift' flares again when a young woman they save from death, Issah, claims to be her sister. But there is no time for ill feeling with the heart of the Abrasaxon existence, the Crystal Castle, dying, and Hakon and his fellow Direktorate members missing. The two girls combine their untested magical abilities to rescue their father and save the twin lands of Okana and Okiyarra from destruction.
Reader Advisory: This book contains themes of enslavement and scenes of mind control and violence.
Publisher's Note: This book was previously released elsewhere. It has been revised and re-edited for re-release with Finch Books.