Finch Books has launched!
Posted by Charlotte Kirton on 25th January 2016

Welcome to Finch Books!
Hello fellow YA fans and avid readers!
The Totally Entwined Group is very happy to announce the launch of our brand new YA imprint, Finch Books, on the 26th January 2016!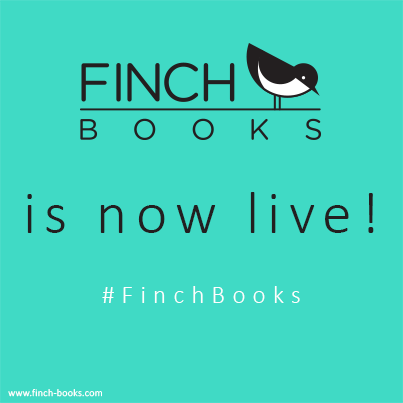 Young Adult fiction has established itself as an exceptionally popular, vastly-growing genre and we are excited to launch a new home for quality stories from brand new voices! With titles encompassing a wide-range of genres such as contemporary, fantasy, alternate reality, historical and romance, our aim is to keep relevant, entertaining and thought-provoking themes at the core of everything we publish.
Today, you can enjoy eight new releases from talented voices in the YA genre, crossing a number of gripping, entertaining and relevant genres and themes. If you're a fan of myths and legends, we recommend picking up a copy of Demigoddess 101 by Kacie Ji. If a post-apocalytic, action-packed novel is more your style, then Abomination by Jane Dougherty is the book for you. Action meets romance in R.E. Whaley's River Girl, another unputdownable read.
Avid readers of gripping, contemporary YA will no doubt enjoy Clicked by Patrick Jones. Or perhaps a tear-jerking paranormal title, like Gabriel's Angel by Caroline MacCallum, sounds more up your street. You could always choose The Scorpion's Heart by Dionie McNair, Blood Princess by Rebecca Piercey or The Menagerie by J.S. Frankel if you're looking for captivating YA fantasy titles to add to your reading list.
So, if you love to read all things YA, browse around Finch Books and let your imagination fly…
You can also follow us on Twitter, Facebook and Instagram for updates and plenty of bookish fun!​
---
Love YA fiction?
If you're interested in reading and reviewing for Finch Books, please get in touch with our PR and Communications Assistant, Charlotte Kirton, via charlotte.kirton@totallyentwinedgroup.com. Please include links to your online platforms such as blogs and social media sites.
---
About Finch Books:
Finch Books delivers enlightening, influential and refreshing storylines that are designed to inspire the Young Adult audience of today. The Young Adult genre has become instrumental in shaping the minds and impacting the aspirations of our future generations. Finch Books are honoured to be contributing to this significant wave of literature by providing a dedicated platform for authors and readers.
The Finch Team aims to become a world-class provider of quintessential YA literature. We believe that quality is of utmost importance. We recognise and nurture absorbing stories with electrifying plots and dynamic characters from inspiring authors. The result is a truly satisfying and captivating reading experience - the very best stimulation for the imagination.