Author Interview: R.E. Whaley
Posted by Charlotte Kirton on 4th February 2016
Finch Books is proud to introduce you to R.E. Whaley, author of River Girl.
We chatted to Finch author R.E. Whaley about all things books and more!
Hello R.E. Whaley! Welcome to the Finch Blog. Please can you tell us a little about yourself?
Hey! Thanks for having me here. I write fiction for young adults, have published a little poetry, and, as you can probably tell by my Tweets, I'm a passionate activist. I grew up in a large city but now live in a small town with my girlfriend and our two dogs.
Give us an insight into what to expect from your new release, River Girl.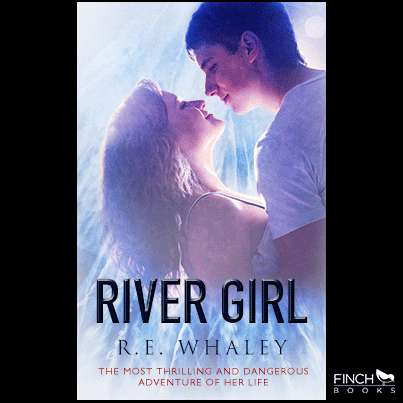 River Girl is my first release with Finch. There are themes of injury and bullying, and mystery, action, adventure, sports, and, oh yeah, some romance.
What's harder, naming your characters, creating the title for your book or the cover design process?
Naming the characters. Luckily, creating titles has been pretty easy for me. The cover design process has been one of my favourite parts of the publishing experience.
Do you have any advice for all the aspiring writers out there?
Write what you want to write. Don't follow trends because they change so fast. And keep trying until you succeed. I know it sounds clichéd but I received A LOT of rejection before "yes."
If you could travel forward or backward in time, where would you go and why?
Backward. I'd tell my younger self that it's okay to be who you are.
If you could be a superhero, what would you want your superpowers to be?
I would like to have the ability to read super-fast and retain what I've read so I can enjoy all the books I want to read but don't have the time to read.
If you could sequester yourself for a week somewhere and just focus on your writing, where would you go?
I'd go somewhere rainy so I'd have an excuse to stay inside and write!
What do you have planned for the future with Finch Books?
I have another YA contemporary mystery coming soon. It's called Friends and Lies, and in the story one frightening night changes everything for a group of friends.
---
River Girl blurb:
Pauline thinks she's going on an ordinary vacation, but instead finds the most thrilling and dangerous adventure of her life…and one very handsome young Marine.
Pauline is supposed to be a new college graduate, but after a very embarrassing incident at college, she leaves school and returns home. She's also dealing with her younger sister's suicide. To fulfill her sister's dream, Pauline goes on a summer rafting trip in the wilderness of British Columbia, Canada, though she's not as outdoorsy as her sister was.
Once Pauline starts the journey down the river, returning to civilization proves rife with unexpected and treacherous obstacles. She soon finds herself trapped with her river guide, Ellis, a young Marine who harbors his own dark secrets. The pair start off not liking each other.
Things take a turn for the worse when they begin to suspect they are being followed, and Pauline is the target. As they make their way down the river in a race against time, they have to work together to outsmart her potential killers.
Publisher's Note: This book has previously been released elsewhere. It has been revised and re-edited for re-release with Finch Books.
General Release Date: 22nd March 2016
Love the sound of River Girl? Get your copy today exclusively from Finch Books!