Author Interview: Caroline MacCallum
Posted by Charlotte Kirton on 8th February 2016
Hello Caroline! Welcome to the Finch Blog. Please can you tell us a little about yourself?
Thank you for inviting me here, it's very exciting to be part of Finch and to have an opportunity to share my Young Adult fiction with the world. I've been writing for nearly ten years, lots of stories some long and some short. I work from home and enjoy having my cat on my lap as I write, the dog at my feet and a view of the bird table in my garden, funnily enough, as I write this there are two finches pecking at the seed balls I've just put out - very appropriate.
Give us an insight into what to expect from your new release, Gabriel's Angel.
Gabriel's Angel is a romantic paranormal story with lots of twists and turns. It's set in Wales, which is where I live, and on the coast. Wales is full of folklore and I'm always inspired when I'm out in the countryside wandering around the cliffs and the castles and the quaint towns and villages. When you read Gabriel's Angel I hope you'll feel like you've had an adventure with not just the characters and another world, but also with Wales, the weather and the ocean.
What's harder, naming your characters, creating the title for your book or the cover design process?
Finch has an awesome cover designer so that bit was easy! Characters were a bit harder, Gabriel was originally Gabriel Grey but I changed that to Black. The title was actually the first thing to come to me on this occasion. We always hear about The Angel Gabriel and I wanted to play with that when my lead character had the same name, Elle was the perfect person to be his angel.
Do you have any advice for all the aspiring writers out there?
Keep writing, a successful writer is one who hasn't given up. Also, just because you have good ideas for stories, don't presume you can write, you need to learn the craft. Attend a creative writing course of some description and get some writer/reader friends who are kind but honest when it comes to feedback of your first drafts.
If you could travel forward or backward in time, where would you go and why?
Oh, good question! I think maybe back in time. I adore Jane Austin and the Bronte sisters work. I'd like to go back and live then, but as a member of a wealthy family in a gorgeous big house and spend my time enjoying the view and writing, perhaps they'd be my friends and we could discuss characters and plots. I also love horses and horse riding so it would suit me very well to live in a time where horses were the only form of transport whether it was in a carriage or in the saddle.
If you could be a superhero, what would you want your superpowers to be?
To be super strong! I'm quite small, despite trips to the gym over the years I've never been that muscular - I have to ask my husband to open jam jars! I'd like to stay this size but have super-human strength - be able to balance a car on my finger, or juggle the fridge, cooker and washing machine, that would surprise everyone and be very useful!

If you could sequester yourself for a week somewhere and just focus on your writing, where would you go?
In a tree house! I was lucky enough to stay in a hotel recently that was on the edge of a big cliff in Africa and it felt like we were in the trees. I'd like to stay in a real tree house, be up there with the birds and the monkeys. Be able to pick fruit, enjoy the view of the canopy. I could imagine sitting in a hammock, writing away and being inspired by the sights and the sounds and the smells of a rainforest. There'd probably be some creepy crawlies and snakes but I could cope with that.
What do you have planned for the future with Finch Books?
More stories! I like to write romance with a twist and bring modern, everyday events to life with the extraordinary. I also like my characters to be real, have real feelings, make mistakes and have to fight for what they want. Keep your eye on my website for your next read.
---
Gabriel's Angel Blurb:
When destiny gets it wrong, a lifetime of true love hangs in the balance.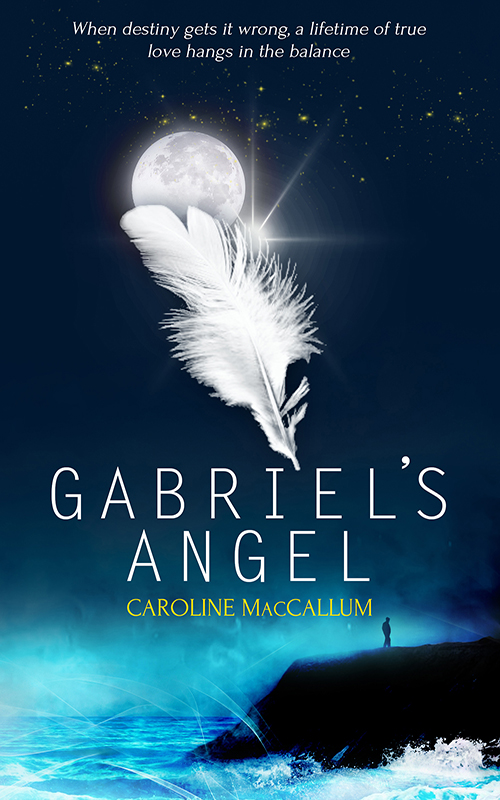 Gabriel Black doesn't want to believe he's been dumped, but when the texts, calls and sweetly scented letters from his long-distance girlfriend, Elle Cassidy, suddenly stop, what else can he think?
Just as well his family is starting a new life away from the rat race, which means he can find out what's going on face to face. But when things don't go to plan, he finds it hard to keep his cool. And when life gets downright creepy, Gabe's hot temper quickly burns through his veins as he struggles to comprehend his situation.
When the dust settles, he learns that a twist of fate means he'll have to navigate a new, never-before-trodden path if he's to have Elle at his side. It's not easy, danger lurks in the shadows and he has to fight to protect what's his. But Gabriel and Elle have allies, the ghostly glow of the moonlight is their friend, family love provides breathtaking strength, and together they can face the future no matter how many soul-takers try to tear them apart.
Love the sound of Gabriel's Angel? Get your copy today exclusively from Finch!